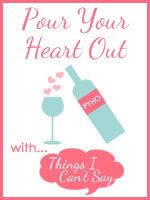 Shell over at
Things I Can't Say
hosts - Pour Your Heart Out.
Click over to her to read the Rules.
So I'm just going to get it out there and admit it. I can be a bitch sometimes. I'm super emotional and stubborn as a mule. When my environment gets thrown out of whack - I get even worse. Sounds awful doesn't it?

I'm not finished yet though. I am also capable of saying some pretty nasty things when mad. I will cut you down to size and make you feel lower than you ever thought possible. I hate sob stories of people who feel that things keep happening to them and take no responsibility for the way their lives turn out. We live in the land of opportunity -here anything is possible - if you choose to drop out of high school, make babies, stay at home while your partner works a dead end job and supports a drug habit and wonder why you are poor - I just have trouble conjuring up pity for you. I firmly believe that you create your own destiny.

On the other hand I am also capable of compassion and caring like you could never imagine. I can forgive be there for you even when I'm mad. I love without limits. I will worry over you and pray for you over sleeping, eating and caring for myself.

So what's the point of this? I guess I'm just saying take me as I am. My flaws are many and it might not be easy loving me or being my friend but its probably worth the hassle. Know that I blow up quickly but will turn around and apologize just as fast IF I was in fact wrong. If not - fat chance in hell. :) I'm probably hardest to deal with right now but - can I lean on you this time and I'll be there for you when you need it?