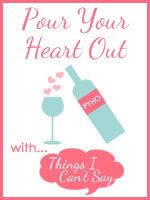 Shell over at
Things I Can't Say
hosts - Pour Your Heart Out.
Click over to her to read the Rules.
I have never been one to claim that I have the perfect marriage or the perfect husband. We are just shy of our two year anniversary and there were many occasions over the past few years where I wondered if we would make it. We had our struggles, tears, and fights. The events of the past few weeks have made me truly deeply appreciate what I do have in my hubby!
When my dad was in the hospital Joey stepped up big time. He dropped everything, left work and came to me when my Dad went downhill the second day. Even though he was three hours away. This was the first time in three years that I was the one that needed him. I am usually the strong one, the rock who keeps everything going smoothly and keeps it all together. With my dad so sick I couldn't eat, sleep, think or function. I stayed at my mom and dad's house for almost a week while Joey drove back and forth while tending to the pets, keeping the house, and working. He held me while I cried and boosted me up when I needed it. He also cried with me at times which oddly enough was comforting also. He spent Easter with my family since my Dad had just been released from the hospital and never complained. He takes care of all the repairs and maintenance on my parents car and the only payment he takes in return is a six-pack of beer. :)
That alone would have been enough to make me appreciate him all over again but having our house guests really made me realize what a good man he is.
The husband in our house guest situation has been unemployed for a year. Normally, I would say well it's hard for anyone to get a job right now but quite honestly he never even looked. I think his drug addiction may have factored into that a little...maybe?? (Side note - We kicked him out last night. The wife and child can stay until she can find a place of her own. She works and is a good person so we have no issues with her) If that wasn't bad enough - he doesn't do a lick around the house. In addition to his wife working she would have to come home, cook, clean, do laundry, take care of her daughter and give him money. He honestly just sat on the couch all day watching TV - didn't even mind the child.
Joey has his lazy days - he may not move off the couch all day at least one day out of the month. But he is also not afraid to pitch in wherever it is needed. Laundry needs to be done - No problem. I need him to cook dinner while I wash dishes - ok. I drag him along grocery shopping - he sneaks things into the cart when I'm not looking. This month he has retiled our entire guest bath, tiled the bedroom entryway where the dog ate the carpet, cleared out the flower beds in front of the house, and sold his project Jeep at a loss to get it out of our yard.
So I can say without hesitation - I thank the Lord for blessing me with this amazing man who respects me, loves me and works hard to provide for our family. I look forward to spending the rest of my life with him. Even when he's laying on the couch snoring away with the dog.