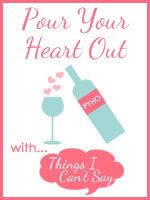 Shell over at
Things I Can't Say
hosts - Pour Your Heart Out.
Click over to her to read the Rules.
Infertility sucks.
No really - it does on so many levels. This is 17 cycles now since going off birth control with nothing. I have been poked, prodded, interrogated and taken all sorts of medication which turned me into a basket case. My husband has sat in a little room and "produced" a "sample" so they could test his manhood. All this in our desire to have a child together. I no longer bat an eyelash when I'm asked to hop up on a table so they can insert the "wand" in me and scan my girly parts. I have learned to say thank you when told I have beautiful ovaries or great eggs. I can tell you the pros and cons of different medications and protocols, which positions are best, what to use, what not to use, etc etc. That's all well and dandy - BUT I"M STILL NOT PREGNANT!!!
It is tough to feel like you failed month after month. To have your body be your biggest enemy. It took my hubby a bit to catch on to how hard all this was on me. For one - he already has two kids so this would just be a bonus for him. For two - he kept thinking it would just happen on its own. Somewhere in the last three months he realized that the chances of that were slim to none. He started asking me about IUI's and IVF, the cost involved, what my doctor would want to do next. Which has helped. A little. So far I have done one cycle of Femara - which I didn't respond to at all, then a cycle of 25mg of Clomid with Ovidrel which wasn't much better - those were through the give us all your money reproductive endocrinologist. I then went back to my Ob/Gyn who happens to specialize in hormones. I have done two cycles of 50mg of Clomid - if this month didn't do it for us we are going up to 100mg for three months. They are also pricing IUI for me since he does them in the office. The neat part is my doctor will actually have my husband be the one to inject (deposit?) the sample into me after the catheter is placed so we will still be the ones to have made the baby. They also work with you to keep the rates manageable.
I have learned not to get my hopes up anymore. I also respond honestly when most people ask rude or insensitive questions about when we will have kids. I've found it shuts them up pretty quickly. It's tough because there are even times when family will say the wrong thing because they don't grasp just how painful the whole experience is. I cry to my hubby at least once a week about it and I don't think that's the Clomid talking. I do have a few things that make me optimistic - this past month I could really feel the Clomid working - I had pain and twinges and just knew when I ovulated - that has never happened before. I also ovulated around cycle day 17 which is early for me. So maybe the 100mg will do the trick - or maybe it won't. Regardless of the outcome - I can always go back to watching 16 and Pregnant and shouting at the unfairness of it all. Sometimes a good bitch fest about the idiots that are able to bear children makes it all a little easier.