Conversations with "The Jellybean"
Me: Hey Jellybean! We're going to take some pictures of you, okay?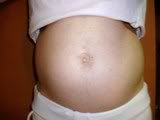 Jellybean: Gosh Mom, I'm kind of tired, actually.

Jellybean: Can't I just nestle in here for a little nap instead?

Me: Well buddy, Mom and Dad would really love to get a good look at that cute little face of yours!



Jellybean: I thought I'd show you this again instead!


Me: You definitely are all boy, huh?


Jellybean: Yep, Mom! I've got these things too...
Jellybean: I'm still figuring out what they are there for, though!
Me: Pretty sure you have a great idea. You've been kicking me with them relentlessly!
Jellybean: Oh, so that's what a foot is, huh? Who knew?
Jellybean: On that note - I'm going back to sleep Mom!

Now for the weekly preggo update -
How far along are you?
23 weeks!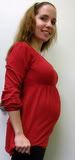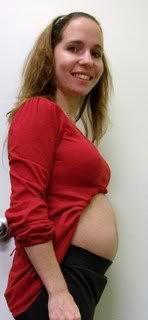 Wedding rings - on or off?
On
How are you feeling generally?
Decent - the heartburn is not letting up but I'm getting use to it.
Any stretch marks?
Nope - I even made hubby do a second check to be sure!
Weekly BOOO HOOOO?
Wal-mart can't get my prenatals and instead of calling me they just held onto the prescription until I came to pick it up!
Weekly WHOO HOOO?
Had an u/s Wednesday and the little booger was being stubborn and burrowed down almost in my hip - he's a cutie though and oh so active!
Are you in all maternity clothes yet?
Nope still hanging on to a few "normal pieces" for now.
Any special events you have to find maternity clothes for?
Argh - I have to find something to wear to a wedding at the end of the month!
How much of your feet can you see ?
My boobs completely block them now!
What kind of birth are you planning?
I'm going to wait and see how my back holds up to see if I need an epidural or not.
Bought anything for baby?
No but someone at work just gave me a cute little cuddle blanket for him.
What's the sex? If you don't know, when are you going to find out?
All boy - he had no problem showing that off again!
Any rude/weird comment yet?
If this guy at work says one more thing about twins I can't be held responsible for my actions!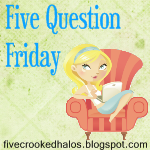 1. What do you listen to while driving?
I scan through the stations country, rock, pop, christian. I'm pretty eclectic.
2. What is your least favorite thing about Fall?
We don't get much of it here in Florida. I wish it would stay cool longer and that our leaves would change!
3. What does your dream house look like, inside and out?
Log cabin - rustic and homey.
4. Would you ever own a minivan?
I'm leaning towards crossover. I really want a Ford Flex - Joey like them too!
5. Do you wash new clothes before wearing them?
Nope - I should though. I will for Jellybean!