Joey recently told me that he knows he hasn't been there as much as he should be during this pregnancy and that he was going to start doing more. It was going to be about me, him and Jellybean from here on out.
Somehow - in my crazy, deluded head I decided that this meant a fairy godmother had come down, waved her magic wand and everything was going to go smoothly from then on out.
As I mentioned before I worked six days last week. Three of those days were 14 hours or more. By Sunday, I was exhausted but the house was also falling apart around me. We hadn't cleaned the previous weekend since we had my nephews over and then there was no way I had time to clean at all the rest of the week so Sunday I had no other choice. Joey had promised he would help me out with the cleaning. I should have known from previous experience what that actually meant.
He rolled out of bed around 10:30 and on to the couch. I had been up since 7:30 am and had already swept, done two loads of laundry, made breakfast and put dinner in the crock pot. Then he took a nap. I mopped, washed dishes, did 87 more loads of laundry and cleaned the bathrooms.
When he finally woke up from his nap...around 4pm - I asked him if he would please vacuum already since it had been sitting in the living room since 11am waiting for him. Then he told me I was a slave driver. (This would be an Oh No He Didn't! moment and yes he really did.) Once my head stopped spinning and I was no longer tempted to grab a chef's knife or rolling pin and go after him, I gave him a quick run down of everything I had done so far that day - and what he had done. I calmly let him know that I had no problem not asking him to help me anymore (at six months pregnant) but I in turn would also stop doing everything that I do. For some reason at that point he decided to start vacuuming.
I'm not sure what inspired him but I have a feeling I'm going to have to start making these great offers more often in order to get some help. How do you distribute the chores more evenly at your house and get your other half to help you? As I get further along in this pregnancy I am going to be more and more limited in what I can do and especially after Jellybean is here. In Joey's defense he has picked up some of the chores I really can't do anymore - walking the dog, using the harsh chemicals on the deep clean of the bathroom, etc. I have actually considered a chore chart but my biggest problem is I get upset when something doesn't get done on my time line - you know immediately. Any advice on accepting that he will help you but it may take a day, two, or a week?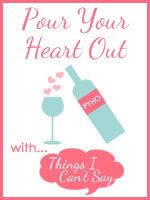 Shell over at
Things I Can't Say
hosts - Pour Your Heart Out. It is a place to just get whatever is weighing on your heart out. Please be kind to all of the posters.