I considered a plethora of topics for my PYHO this week. Ex-boyfriends, finances, my dad, Jellybean, sisters, friends, Christmas, the hubby, nuclear warfare. Then I remembered I'm pregnant and lazy and decided to go light hearted and fun for a change. So here is my random stream of consciousness for your entertainment pleasure.
(PS Google Maps can't locate this one - fo sho)
Last night I decided to finish MY leftover birthday cake from Carrabbas. I opened the fridge pulled out the container and discovered there was only one layer left of my 4 layer cake. It was chocolate, I'm pregnant. I'm not telling you where I hid his body.
I managed to pull off a really cute outfit today. It entailed not zipping up the skirt I'm wearing over the leggings and wearing a longer shirt but I finally have a cute preggo outfit. For a week. Until I blow up again.
I had to do my Glucose Test on Monday. That was an interesting experience all the way around. I attempted to make an appointment first - the soonest available was at the end of the month! So I went as a walk in and waited. In what looked like a mash up of drug court and the Shady Oaks nursing home. The pregnant chick stood out. After 2 HOURS they finally called me back to get the most vile and disgusting drink I've ever had in my life - and only gave me 5 minutes to drink it. This is one of those times that I am thankful I partied as much as I did in college and became quite proficient at doing shots. I would have been screwed otherwise. Then I had to wait another HOUR to get my blood drawn. I comforted myself by inhaling a quarter pounder and fries from McDonald's afterwards. What? I'm pregnant!
My cat is also now drinking all the water out of our houseplants. Anyone know a good cat therapist because mine clearly has issues?
Jellybean has found my ribs. 85 days until my due date. I don't even have the crib set up yet. I've only checked out one daycare. I'm a slacker.
I still only have one Christmas gift purchased with 45 days until Christmas. Once again - I'm a slacker!
The hubby and I couldn't reach a compromise on Thanksgiving - we have done his family three years in a row. So he's going to be with his family and I'm going to go spend it with mine. Somehow I doubt that's going to work next year when Jellybean is here. We need a negotiator! :)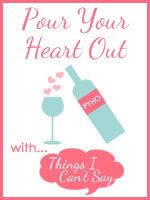 Shell over at
Things I Can't Say
hosts - Pour Your Heart Out. It is a place to just get whatever is weighing on your heart out. Please be kind to all of the posters.