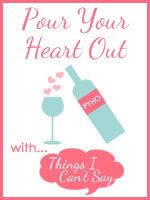 Shell over at
Things I Can't Say
hosts - Pour Your Heart Out.
Click over to her to read the Rules.
I blogged before about the
pain of infertility
and its a subject I don't take lightly at all. I'm now standing on the other side of the fence and quite honestly its not any easier over here. First off, to all the ladies struggling with IF - I completely understand being happy for me but then again not, since it isn't you who finally "got knocked up." It won't hurt me if you no longer follow or read my blog as I go through this pregnancy - I would never want to be a cause of pain to someone else and its hard to read about someone else's pregnancy when you can't get there yourself. Have no doubt that I will continue to pray for all of you to see that BFP and that I am always going to be supportive in your quest to become momma's. Remember - I didn't think I would be here today, 5 weeks along. I didn't think the Clomid had worked. I was convinced we were heading for IUIs or IVF.
So here I am, standing on the finally pregnant side of infertility. And it scares the shit out of me. (Pardon my french!) Is it a sticky bean? Did I do anything I shouldn't have during those first few weeks? Why wasn't I taking my prenatals like I should of been when we were TTC? How in the world are we going to pay for everything? What is going to happen to my body? Will my back ever stop hurting? Why couldn't my first appointment get here sooner? I know that many of my fears are unfounded and just me being crazy. I have no reason to think I will miscarry, especially since I've never been pregnant before so I have nothing to compare it to. I second guess every twinge, cramp and symptom. The worst part is that most early pregnancy symptoms happen to be exactly like AF symptoms. Way to screw with your mind mother nature! My temp this morning was higher than its ever been before so by all mans I should be relaxing and enjoying this. I am trying to but I am also a worrywart by design so I may end up "what if"ing myself into the crazy house. I'm hoping that my first doctor's appointment will assuage my fears a bit and calm me down. I haven't said anything at work yet and I am hoping to hold off until after that first appointment. Wish me luck through this crazy journey - I'm shaking in my shoes over all of it!
Once again to the infertility ladies - I'm keeping my fingers crossed for BFP's for all of you.