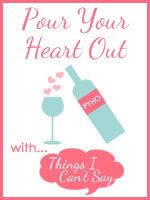 Shell over at
Things I Can't Say
hosts - Pour Your Heart Out.
Click over to her to read the Rules.
In the past week I have spent an exorbitant amount of money.
Not by choice either.
It started off with getting our tax return! Exciting right? I was thrilled at first. We paid Joey's aunt back some money she loaned us when we bought our house, pretty much paid off our credit cards and I was going to get new furniture for the living room. After 3 years of waiting.
Then reality decided to rear its ugly head. On Saturday I had to drag the dog to the vet. He has succeeded in chewing half his fur off and scratching himself raw due to allergies. I went ahead and brought the cat too since I was going anyway. We ended up with 4 shots between the two of them, two physicals, a negative heartworm test, a new flea medication and a dog that is still chewing at himself. That cost me $200.
While I was there Joey called, the clutch on his truck was going out. His truck that we bought a year ago and he has already put 40,000 miles on. There went another $300 or so.
Monday - Joey had to get his dental work finished. Over $1800 worth. I paid half of that yesterday and the remainder will be paid when he goes back at the end of the month. That hurt - a lot. Joey's teeth have been an ongoing project for us. At this point I have probably spent upwards of $3,000 on them. Unfortunately his teeth were not well taken care of in the past and we are paying for it now. Fillings, crowns, root canals, fine scale cleanings, yada, yada yada - ching ching ching.
To top it all off, we are supposed to go pick up my stepson Devin next Friday from Mississippi. That means we have to have money to drive up there, for day camp, and to entertain him. I have no idea where that money is going to come from.
Why is is that every time you feel like you are going to be able to get ahead the shit hits the fan and you are right back where you started? I would really love to have a savings account again that has a respectable amount of money in it. I don't need anything ludicrous but enough to replace an engine or transmission would be nice. At this rate I better start looking at bicycles instead though! I know we aren't along in the money struggles and that we are blessed to be able to make ends meet. I just hope that one day we will be able to do more than just get by.