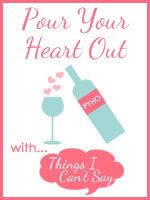 Shell over at
Things I Can't Say
hosts - Pour Your Heart Out.
Click over to her to read the Rules.
You can keep your apologies, I don't want them. I have heard you say I'm sorry so many times I no longer believe it. I think you are sorry that I don't accept or excuse your actions and that quite frankly I no longer care. I have lost faith and hope in you and doubt that you will ever really change. I don't see the desire to be a better person in you. I think you are quite content to just keep existing in life but not fully engaging. So please - stop apologizing.
I look at you and see a child who will never mature to a full adult. I hope that you will prove me wrong but forgive me for not holding my breath until that happens. It saddens me to think that you willingly let life and all your talents pass you by due to the fear of change. I think you would find life to be incredibly fulfilling if you in fact chose to live it. I will continue to care for you and love you but I am going to put myself first from now on. I haven't done that in ages and recently realized that I deserve to be important sometimes too.
I hope that you do find it in you to grow, change and become the person you are capable of being, I just don't know if I will have the patience to wait and see when that will happen.