Hey ya'll.
I'm sorry for the disappearing act. I had some serious stuff go down last week and I needed a break. I didn't have the brain power to blog, read, etc. It was one of those times where I needed to expend allmy energy on the here and now and not blogging. I'm in a better place now though. The situation - its still there but regardless of how it turns out. I know its going to be okay.
In that time I got contacted to do two fun giveaways so stay tuned for those. I just need to work out the details and I'll be cluing you in.
Now - on to the fabulous Shell's Rockin the Baby!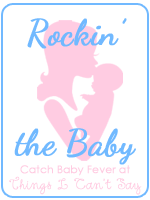 I don't think anyone is shocked when I say that I am head over heels in love with my Jellybean. He is without a doubt the best thing that ever happened to me. From the moment I heard his pitiful cry and then laid eyes on his scrawny little body I have been wrapped. I have thousands of pictures of him already. Luckily for you - I'm going to control myself for this post! So here I'll share with you a quick glimpse into the Jellybean's life so far -
Shortly after his very early birth - sucking his thumb already!
A very groggy Mommy saying goodbye until I could join him at his new hospital.
Kangaroo Care with my Jellybean!
First Day home!
After a walk at 1 month old!
2 months old - the smile I fell in love with
3 months old - Umm..yes I do know how cute I am!
4 months old - He is going to get away with so much!
5 months old - Playing with his favorite toy
Six months old - his professional pictures
and then a few from this weekend...at 6.5 months
Playdate
Cheesing
New shades!
Now I'm off to coo over your babies!