This 5QF is brought to you by the killer migraine I woke up with this morning, the return of morning sickness, the number 14 and the letter N! Hope everyone has a wonderful weekend!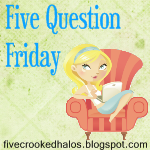 Mama M over at
My Little Life
hosts 5QF so go visit her and join in the fun!
1.
What is one food you could eat everyday?
Garlic bread - It's my go to food when I can't decide what it is I want.
2.
Are you working in the career you thought you would be when you were 18?
Heck no, at 18 I just knew I was going to be a prizewinning journalist for either Rolling Stone or Blender. Instead - I write marketing blurbs

about cheesecakes and brownies.
3.
What is something that you wish you would have done when you were younger and you didn't?
I wish I had been more involved with sports at the school level. I did gymnastics but that was a club sport and I think I would have gotten more out of school had I been more involved.
4.
What color are your kitchen walls?
Oh crap. I think they are the same tan color as my other walls. Honestly - I never noticed.
5. Do you remember what your very first favorite song was?
Debbie Gibson - Red Hot.
You can quit laughing now. It's not nice. :)