I thought I would be really ambitious and try to cram everything into this one wee little post. (or not so little - you get the idea) So it's a Friday Follow/Five Question Friday/Preggo update all in one. Also in case you missed it or need some time to weed out some good ones you can still link up with
Texting Thursday.
I just started it so if you don't have any ideas for this week just keep me in mind for next week.
First off to those visiting from Friday Follow or ICLW - Hello! Welcome! So glad you stopped by! I'm Di - 27, sarcastic, able to laugh at myself and I try to serve up my life's events with a side of humor. I call it like it is though and don't mince words if something bothers me. I sure do hope you decide to poke around the old blog and if you like what you see you become a follower. Also being the youngest in my family I constantly need attention so leave me a comment or two for a sense of validation!
On to the Pregnancy update. First off here's an - Oh No He Didn't! moment from this week. It almost led to Joey losing his life in a gruesome and graphic way. My husband actually had the balls to say to me -
"Hey! You're getting a little pudgy there!"
I considered 800 different ways to maim him and then responded with -
"Umm. No honey - I would be looking a little PREGNANT since you know YOU knocked me up and all."
Now tell me at 12 weeks (WOO HOO! 6 Days to my second trimester!!!) which one of us is looking pudgy?



or



Uh huh, that's what I thought!
Next Wednesday I will be making the big reveal at work. We have a big meeting that everyone will be in and I have to speak as part of the presentation so I figure right before my part I will rip open my smock (stripper style) and show off my T-shirt that shares the news. Yea, I'm subtle like that!
Now on to 5QF -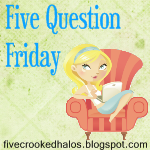 Mama M over at
My Little Life
hosts 5QF so go visit her and join in the fun!
1. What were your school colors?
Red and White for the high school I spent most of my time at. Our mascot was also the Fighting Sandcrab - what that doesn't strike fear in your hearts? I am so disappointed! My second high school's colors were Blue and White (I think) and it shared a mascot (The Knight) with my college whose colors were black and gold so technically our mascot was the Golden Knight.
2.
What's the best compliment you ever received?
Oh shoot - I can't remember. The ones I appreciate the most are when dh thanks me for everything i do and the ways I support him. That is the most meaningful.
3.
Do you buy cheap or expensive toilet paper?
Depends on the status of my checking account. I never buy the super cheap stuff though since there is nothing grosser than the tp falling apart on you while you are using it.
4.
Have you ever had a surprise party thrown for you? Or have you had one for someone else?
I've never had one thrown for me but we recently threw one for my dad. I think we had one for my sister when she was a teenager too. Damn pregnancy brain. Can't remember. (Jellybean! Quit stealing my brain cells and make your own!)
5. What is one
material
possession

that you "can't live without"?
My phone. I love texting with my sister, my morning phone call with my dad then my mom and just being able to connect when I need it. The random love you text from the hubby is nice too. Phones = love when you need a quick dose!