I've been noticing over the past week that my clothes were starting to feel a little tight on me. Nothing outrageous but you know a little uncomfortable. I've gained around 3 or 4 pounds so far which is right on track for the first trimester. That is in spite of the fact that Jellybean let me know quite distinctly that one of my favorite Polish meals (Fried Kielbasa with Onions) is not one that s/he enjoys. Saturday night ended with me hugging the toilet while begging Joey to bring me some ginger ale. Darn kid is going to have to start embracing its heritage at some point!
So onto my problem. Well, let's start with my belly shot from last Friday. (Please ignore the humidity hair and the fact that Blue feels a need to get in every picture I take. Yes, that is his tail in that shot.)
So - not too drastic of a change but I was starting to get a bump going there. I figured another week or so before I really started to notice.
Ha! If only that were true! This is how I've been wearing my pants all day today at work -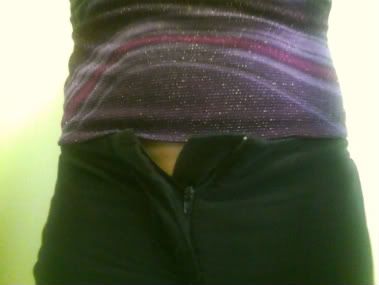 Thank goodness for the fact that they keep my office freezing cold so I can get away with wearing a hoodie all day too or my secret would most definitely be revealed! I guess it's time to break down and do some shopping for clothes that actually fit me. I'm guessing my boobs are getting tired of being smooshed into too small bras too! I have an appointment tomorrow with my OB and then my NT scan on Wednesday which should help alleviate some of my unfounded worries after spending too much time on the internet over the weekend. I now have fears of missed miscarriages and countless defects running through my head. I must learn to step away from Dr. Google. Nothing good can come of it!
As a final note - for those of you who remember my dad's situation - can I ask you to throw a prayer up for him? We found out that his appeal for financial assistance is still under review and if it is approved he can finally start to get the quality of care he really needs. Please if you are the praying sort add him to your list for tonight!