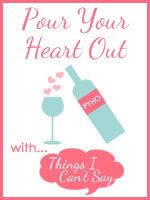 Shell over at
Things I Can't Say
hosts - Pour Your Heart Out.
Click over to her to read the Rules.
So as I mentioned
here
, my ten year high school reunion is coming up. The organizers did finally come to their senses and offer per event pricing. With the dinner being $60 a person that is still out of my price range with a baby on the way so I decided that we wouldn't be going. My decision was reaffirmed when I received an event invitation on Monday night to the "after-party."
Here is the actual invite (with names and addresses deleted of course!):
The party never stops during the Class of 2000 Reunion Weekend!
After the Prom Dinner/Dance at Daytona Beach Resort, come to the ***** House in Ormond for the after party on Saturday, July 31st.
The Prom doesn't end until 11, but the hosts will open their home at 9:30pm for the early birds. And don't worry, the party won't stop until the sun comes up!
Beer will be provided and there will be drinking games + a whole lot of ***** Rager fun! The ***** are asking for a $10 donation to help cover the costs of hosting this awesome party.
The party is open to everyone - that means Class of 2000, their friends, family, whoever feels like coming by for a good time. Hope to see everyone there! All the relevant info is below. If you have any questions, please FB message me.
WHAT: After-Prom Party at the *****
WHEN: Saturday, July 31st, 9:30pm-whenever
WHERE: ***************, Ormond Beach
WHY: Because ***** Ragers are legend.
I promise you - I am not making this up. I was actually invited to a rager with the promise of drinking games. At 27 years old, married, with a baby on the way. This is where I would ask "Seriously, are we still in high school?" but apparently some people have been waiting the past ten years to be in high school again. I will gladly pass on drinking beer, playing quarters and passing out on someone's floor. The sad part is this is pretty typical for my high school. A large portion of those that attended end up staying in town, partying, etc. Hearing about someone overdosing is common. I managed to avoid most of that in high school thanks to my dedication to gymnastics. Partying on Friday night just didn't sound appealing when you had an 8am practice on Saturday morning. 10 years later - it still doesn't sound very appealing when you will be 3.5 months preggo at that point and the smell of beer makes you want to hurl.
So, anyone want to go in my place and just report back all the juicy bits?