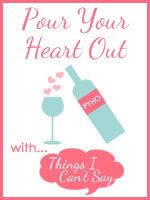 Shell over at
Things I Can't Say
hosts - Pour Your Heart Out.
Click over to her to read the Rules.
So I always thought that I would be perfectly content with being a career woman. I mean that is why I went to college and busted my ass for three and a half years and then continued to bust it in the job force. I continued thinking that while I was single and living it up and after getting married to the hubby. I honestly always pictured myself advancing up that ladder and the satisfaction it would bring.
Then I got pregnant with Jellybean and I started to realize that nothing in my career would give me as much satisfaction as getting to stay at home and be a mom. Unfortunately that just isn't feasible for us. We just bought a house a year ago, still have two car payments, my student loans, credit cards etc. Plus I'm the breadwinner in the family and my job is the one with the great insurance benefits. The reality of it sucks. I know that there are so many women out there that struggle with the same dilemma but that doesn't mean it will stop a girl from wishing.
The hubby does have plans for starting his own business that will hopefully one day give me the luxury of being able to stay at home. First though he has to go back to school and get a business degree so that he knows which way is up in running your own business. So for now I suck it up and accept that I'm going to be a working mom. But I'll still be giving Jellybean all the love and attention a child could possibly need - career woman or not. That is unless I win the lottery or a rich uncle leaves me some ridiculous inheritance. Then I'll be a kick ass stay at home mom - with some flashy wheels too! :)