Wait - before you read any further - did you get to read yesterday's fun
Q&A post
?
No?
What's wrong with you people? Get over there now! Dang it.
Now as you guys know I usually get this post up late Thursday night but I have a really good reason why I didn't last night. Ready for a new feature? Okay here we go -
Conversations with "The Jellybean"
Jellybean:
Hey Mom, whatchya doing?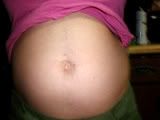 Well Jellybean, I'm trying to get all this stuff that someone gave us for you organized and put away.

Jellybean: Umm.. Mom - what "stuff" is that? I can't really see in here and it's kinda dark...

For now buddy - It's all getting stuffed in here so Daddy can paint.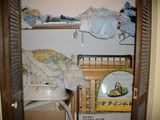 Jellybean: Mooom! The closet doors are all busted up!

I know - We're on it already!
The room wasn't going to clean itself, son.

Jellybean: Are you nagging at me on that already, Mom? I mean you have plenty of time. I'm not coming out for awhile yet. Is this that nesting thing already?

Looks like I need to teach you the fine art of knowing when to shut your mouth , Son. As soon as I teach your Dad how to do it that is!
Does your pregnancy seem to be going fast or slow? FAST! Can't believe I'm halfway there!
How far along are you? 20 weeks!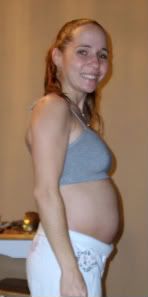 Total weight gain/loss? 12-15 lbs depending on the scale. Don't know how since I haven't eaten that much this past week!
Wedding rings - on or off?On and spinning around still
Stretch marks? no new ones yet
How are you feeling generally? Meh..this wasn't a great week. Pretty bad indigestion and just sooo tired.
Weekly BOOO HOOOO? See above!
Weekly WHOO HOOO? We bought paint for the baby room and a friend of ours gave us the motherload of baby stuff.
Did you buy anything for baby this week? Paint and closet doors
Are you reading any baby books/magazines? If so, which ones? Just whatever I get in the mail. American baby, Parents, etc.
Have you started a registry yet? Yep and I hope to finish it up this weekend. We are also going to a baby shower expo on Sunday.
Do you have any new U/S pics to share? Not until Oct 6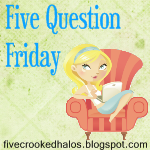 1. What is the first nightmare you remember?
This is going to sound freaky to some people but my earliest nightmares were somewhat clairvoyant. The first I can remember had to do with a friend of my parents. He was being chased through our neighborhood in NY and was being shot at. Not two days later he was mugged and beaten up pretty badly on the subway. Weird, huh?
2. Even if you're not a sports fan, what's your favorite sport to play/watch?
Gymnastics - once its in your blood you just can't get it out!
3. If you could pull off one piece of trendy fashion, what would you want it to be (jeggings, hats, thigh high boots, etc.)?
You are asking a 5' tall, pregnant chick what trendy piece of fashion she would like to be able to pull off? Anything that was somewhat trendy would be fab. Maternity capris look like baggy jeans on me. Maternity jeans have my crotch down around my knees. It's a hot look - I'm telling ya!
4. Did you make good grades in school?
For the most part - yes. We were raised in a household where straight A's were expected not a welcome surprise. I went through my I don't give a crap phases in high school (My senioritis hit junior year - I always was an overachiever!) but even in college I managed to make the presidents list with straight A's twice!
5. What magazines do you subscribe to?
They are all baby and parenting related right now. Joey gets Maxim too. And they are all free subscriptions!