I've been loved on and this time it wasn't by the dog or the cat. Well, actually they did too but an actual human gave me some bloggy love! Sammy over at
Bits and Pieces
shared the Cherry on Top Award with me! Sammy is another Florida girl who also just so happens to be pregnant with you guessed it - a little boy! Notice any coincidences here? Now you know why I like the girl! Although I haven't been lucky enough to meet her IRL yet I just know that she is amazing! So go visit her and shower her with feel good vibes - I mean the girl is 32 weeks pregnant - she deserves it!
So as with everything else in life - there are some legalities attached this award. First a question -
1. Answer this question: If you had the chance to go back and change one thing in your life, would you and what would it be?
I use to think that there were so many things I would go back and tweak since I had gone through some really rough and trying times in the short time I've been here. Now that I am older I realize that I can't change any of it. All these trials and tribulations made me who I am today. They are the reason I am this strong and can get through pretty much ANYTHING. They may have made me a harder person in some ways but I'm okay with that. I know that my family and wonderful husband wouldn't want it any other way. I also learned a lot about myself in the process so I'm quite happy to now say that I would do it all again exactly the same way in a heartbeat!
Now I'm supposed to share this award with 4 other bloggers and of course let them know they received it. I am going to team this up with the -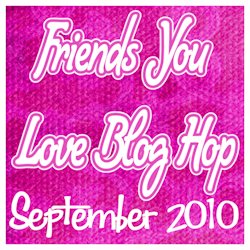 and ask that the four I pick also guest post for me the next four Mondays. So without further ado -
1. Krystal @ Krystal's Kitsch Krystal is another Florida girly who just so happens to be engaged to one of my first and truest friends from college, Scott. I haven't been lucky enough to meet her IRL yet either since marriage, babies, growing up make it harder for everyone to get together. But for Scott to want to settle down with her she has to be a wonderful lady!


2. Alexis aka MOM @ Running away? I'll help you pack
Alexis was lucky enough to be my 100th follower and I've enjoyed getting to know her a little bit here and there!



3. Tylaine @ Just Me
Tylaine always leaves the most thoughtful comments and has been so supportive through my pregnancy. I would totally be meeting up with her for coffee if she didn't live in Utah.



4. Laura @ The Purse Blogger
I also always love the comments Laura leaves me. She's the friend you would call whenever you need a pick me up. I just know that she's an awesome friend IRL to everyone she meets!



So ladies - grab your awards and let me know if you'll be willing to guest post in honor of Friends you Love and International Women's Friendship Month.