Ladies - Thank you for all the support I received after
Wednesday's post.
It made me feel much better and reminded me that yes - I do need to take it easy sometimes. My body also helped remind me that afternoon. My indigestion got so bad that I actually threw up from it! I decided to leave the chores undone and have hubby drop me off at my mom and dad's so they could take care of me for a bit. My dad gave me some Prilosec which combined with Tums seems to be helping. I finally slept through the night Wednesday night! Yesterday was rough on me though since I had a 14 hour work day with about 6 hours on my feet. I am taking a very lazy day at work today in exchange.
As a special treat though - Joey is working right by me today so I get to have a lunch date with the hubby. Even though I'm a little po'ed at him - it still makes me happy to see him in the middle of my day.
On to the preggo update - the camera angle is weird on this weeks shot so for some reason my butt looks like it grew while my tummy shrank - I assure you both have indeed grown!
How far along are you? 18 weeks
Total weight gain/loss? around 8 or 9 lbs - I needed it though. I was a little underweight to start with!
Waist measurement? no idea
Do you sleep with extra pillows? yep. I have one that I either prop my leg up on or slip under my tummy
Have you felt the baby move/kick? Yeppers again. I can't wait for him to get really active though so I can feel it more often.
Wedding rings - on or off? On
Stretch marks? Not any new ones yet.
Biggest body complaint? Heartburn, indigestion
How much of your feet can you see? All of them
Weekly BOOO HOOOO? Having indigestion so bad yesterday that I threw up
Weekly WHOO HOOO? We picked a name!! Dominik Michal
Are you in maternity clothes? Yes
Have you bought any maternity clothes lately? No - I'm waiting for dh to finish this side job and get paid then he's giving me some spending money from it.
Have you stocked up on anything for the baby? Not yet - but I did get a Target baby catalog in the mail yesterday so we're going to start planning our registry
What is the hardest decision regarding baby stuff that you are trying to decide? ex carseat, bedding, crib etc? Daycare - we need to start visiting!! And finding a pediatrician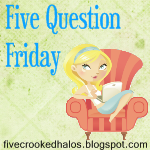 Mama M over at
My Little Life
hosts 5QF so go visit her and join in the fun!
1. What do you do when you have time to yourself?
Lately - I sleep or read if I have the energy for it. My sister and I have yet to get our sister day in that was going to include pedicures and shopping. Soon I hope!
2. When you look out your kitchen window, what do you see?
My back porch that is still a mess and other construction. I'm hoping its finished by Christmas!
3. Who/What would you want to be reincarnated as?
My cat - I want to eat,sleep and be petted - all on demand!
4. What is your biggest pet peeve about other people's kids?
Disrespect - I have a neighbor whose kids think they can just follow me in my house uninvited. Really peeves me when they do that!
5. Regular or Diet soda?
Regular - Diet gives me migraines. I don't drink that much soda though anyway!