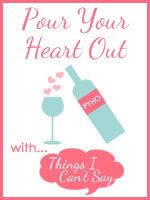 Shell over at
Things I Can't Say
hosts - Pour Your Heart Out. It is a place to just get whatever is weighing on your heart out. Please be kind to all of the posters.
I currently have a bunch of friends who are planning weddings. (Seriously I can think of 5 off the top of my head!) Most of them are constantly stressed and have been coming to me for advice since weddings are expensive. Like makes you want to crawl in a hole and die expensive.
Joey and I planned our wedding in a month. We were in the middle of a very pricey custody battle for his son and didn't have a dime to spare. Needless to say – I became an expert on how to pull off a day you'll never forget without ending up in the poor house. I will say this right away – it is possible to have a classy and elegant wedding without spending a small fortune. It just takes some creativity, help from family and friends and a ton of hard work. In the end I am glad that we did manage to keep our costs down. The last thing you want to do is to start your wedding weighed down with the debt that came with it. Finances are the main thing couples argue about anyway and trust me – the expenses just keep rolling in once you are married. I know couples who have had to declare bankruptcy early in their marriage due to the cost their wedding involved. Cars break, people get speeding tickets, your fridge craps out on you and then you find out you're pregnant! Also – the first two years of marriage – no matter how long you've been together and even if you have already lived together – are HARD! For some reason that one piece of paper makes a HUGE difference in the relationship. Before you are married you tend to allow a bit more selfishness from each other but then it becomes all about compromise and dealing with in-laws, holidays, etc etc. It can be rough sometimes. You probably will think of divorce a few times or why in the world did I get married? So yeah – adding a wedding you can't pay off to fulfill your childhood fantasy of what it should be – not a good idea. Honestly – when you are a kid it's okay to have that fantasy wedding idea because the reality of having to pay for it doesn't enter into the equation but unless you are loaded or your parents are chances are it ain't happening without massive credit card usage!
So here are my tips and tricks for having the wedding of your dreams on a shoestring budget –
Dresses - I borrowed my sister's so I paid $100 to get it cleaned/hemmed. You can try that route or check consignment shops, craigslist, etc. I've seen some gorgeous dresses at Goodwill, even some brand new, really well priced. I let my bridesmaids pick their own dresses out, I just specified the color. They found them on clearance at David's Bridal but no one said they have to come from a Bridal shop or even match. I've seen girls who all had the same color but each wore a dress that suited her body and they still looked gorgeous!
Tuxes - We rented from Men's Warehouse and Joey got a discount on his tux since we had everyone rent there. I splurged and ordered Joey's camo vest and tie for him so that he could throw his country flavor in there! Keep in mind your bridal parties budget too and go basic on the tux. Or let all the guys wear their own black suits and just match the shirt colors to your dresses.
Flower girls/Ring bearers - I made the flower girl baskets myself and bought the pillows at the dollar store I think. My sister found the girl's dresses online for $20 each.
Reception - We rented a county facility which I think was like $75 for the whole day and included tables and chairs. Look around at what the city/county has to offer. Some don't allow alcohol other's do! We made some punch and sangria. That was it – no open bar, no bartender. We had soda, ice tea and non alcoholic punch too. We were able to go in the night before to decorate and clean up the next day. Just use sheets for tablecloths - its cheaper then renting. See if anyone has decorations left over from their wedding or another event that can be reused to decorate the reception hall.
Food - We did it potluck style and all of our family chipped in on making meals and appetizers. See if anyone knows how to bake and would be willing to make the cake for you - we had someone make ours for us. Buy the cheapest champagne out there – it's just a formality - for the toast. We did buffet style for the dinner and used the nice looking disposable plates and flatware.
Remember that no matter how big or small the wedding and the cost involved – It's just one day and It's not about the wedding, It's about the marriage. No one ever told us our wedding looked cheap or that we should have spent more money on it - I wouldn't change a single thing about it. The marriage on the other hand takes work - every single day!