First things first bloggers!
Have you entered my giveaway yet? What were you waiting for a formal invitation? Here goes - Make sure to enter my
Diaper Bag Giveaway
if you haven't yet! How was that?
Second - do you live in Central Florida? Want to meetup?
More info here!
If you are visiting from ICLW -
my story is here.
Now for the second installment of -
Conversations with "The Jellybean"
Jellybean: Hey Mom... (kick, kick, punch, stab)

Me: Ow - where the heck did you find a pencil in there? Anyhow, yes Jellybean?
Jellybean: Umm..I've got a question...What the heck is that thing?
Me: Oh, that's just Blue - he's our silly puppy!

Jellybean: Mom - have you seen the size of that thing? He's super scary!
Me: Trust me buddy - he's not! I mean he snores, farts alot and wants to be snuggled. I think you guys will have so much in common. Look he even has his own teddy bear!
Jellybean: Gee thanks, Mom! Is that supposed to make me feel better? Look at the poor bear. Blue is BITING IT! And there's stuffing coming out of the guy!

Me: Hate to be the one to tell you this buddy - but you'll be biting and drooling all over your bears too!

Jellybean: AS IF MOM! I'm going to be way cooler than those drooly babies! You just wait.

Me: Sure Jellybean - you'll skip that whole infant stage. Now do you want me to introduce you to Cadillac, mommy's other baby?
Jellybean: Goodness Mom - what do you feed these things? Nope not ready to meet him yet. I'm going back to my soccer game!
Me: Just lay off the stabbing buddy or you'll be getting some cold wash cloths on that bum in a few months!
On to the Pregnancy Update -
How far along are you?
21 weeks - eeekkk
Total weight gain/loss?
Haven't weighed myself this week - guessing 12-14+
Wedding rings - on or off?
On
How are you feeling generally?
Starting to get a little uncomfortable and noticing I can't do everything like I use to. My desk starts to press against my belly at work or the belly is in the way when I go to squat down. Better get use to it though!
Weekly BOOO HOOOO?
The hubby - enough said - right?
Weekly WHOO HOOO?
I have a kicking machine in there most nights!
Are you wearing heels or mostly flats?
Still a mix of both.
Are you playing the "pregnancy" card? What have you asked for/had someone do for you that you normally wouldn't ask?
Wish I could but I'm still chugging along. People at work tend to step in if there's a heavy box or something though.
Do you like your Dr./midwife/doula so far?
I love my doctor - he really is great.
Do you have a going home outfit for your baby yet?
No but I'm going to start looking soon.
Do you take your prenatals in the morning or at night?
At night unless I forget then in the morning.
21 weeks -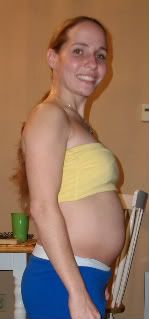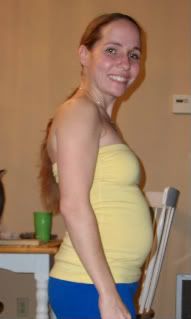 And for the best part of Friday -

Hmm...Maybe South African. I kissed a guy from there once and I'm pretty sure the accent got me. Or maybe it was his eyes. Wait - I went off track there didn't I? :)
2. Can you fall asleep anywhere? (i.e floor, couch, deck)
Nope - I'm a picky sleeper. Everything has to be just right or I can't fall asleep! (Boy oh boy is that making this pregnancy fun!) I can't sleep in the car either which makes our drives to Mississippi a blast since I start the delirious babbling at some point too! I think Joey has learned to tune me out by now. He sure does a grand job of it at home at least!
3. Do you use public restrooms? If so, do you sit on the toilet?
Yes and it depends on where and how badly I have to go. I always wipe it down first and if its super scary - I hover.
4. If you were stuck in an elevator for 24 hours, what celebrity would you most want to be stuck with?
Julia Stiles - She's my girl crush but in that I'd like to be her kind of way.
5. Where did you & your significant other go on your 1st date?
His house - we just rented movies and I think we might have gotten Chik-Fil-A. Our first dinner out we went to an Italian place by my apartment. The food was forgettable and the wine was awful!