Ahhh...another Monday is upon us. (Okay - so I'm actually writing this on Sunday night while waiting for my two Tums to kick in so I can eat the ribs Joey is grilling for dinner...) Do you like the tangent my pregnancy brain likes to go off on there? Don't worry the pregnancy part will be relevant in a few minutes... So anyhow - another Monday. I hope everyone had a fantabulous weekend! I noticed no one has given me any questions, comments or emails for the
Getting to Know You Q&A
I want to do on Thursday. Its going to be a little awkward for me if I'm just answering questions I ask myself.....so hit me with your best shot - I can take it! (Otherwise I may be forced to actually come up with a real blog post for Thursday and that might not be pretty!)
Now - on to the real reason most of you are here -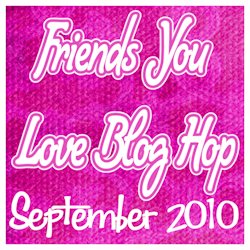 This month is about building friendships and making our existing friendships stronger...
We challenge you to dig into your "followers" list and find a follower you don't know well (someone who doesn't comment regularly) and reach out to them and ask them to do a guest post on YOUR blog. Link up with your guest post and have your new friend (guest poster) link up as well!
For my first guest poster I chose Tylaine from
Just Me
. Tylaine is a mommy of three and has made it a point to be one of my biggest cheerleaders throughout my pregnancy. Even when I may have spent a week here and there moaning and whining about it which no one really wanted to hear. Secretly she knew I was enjoying every minute of it. So without further ado here is Tylaine's post. Please make sure to stop by her blog and show her some love too. After all isn't that what this blog hop is all about?
Thanks so much to Di for giving me this opportunity. Since she's pregnant and since I love to talk about pregnancy I thought I'd do a little "opinions by Tylaine who knows everything about pregnancy"
First off one of the big questions I think for many when they find out they're pregnant is whether or not to go natural. When I got pregnant with Ethan I don't think I even really thought about. I'd just have an epidural like everyone else, in fact in the prenatal class I took there was not one couple that didn't choose an epidural. For that one I'm glad I did cause he was posterior and pushing for 2 hours with no epidural would of not been much fun. So then with Aria I had thought quite a bit about going natural (I was totally hooked on those birthing shows, not the TLC ones the ones where they filmed at a birthing center with a midwife) At this time I switched from my doctor to a midwife who was an angel (I love LOVE midwifes and will never go back to a doctor) Anyways when it came time I chickened out and went for the epidural again (of course it didn't help that she was in the middle of the night and my hubby had to leave to be with Ethan so I was all alone) Doing it natural all alone would not be fun either. Regret there. So with Emma I actually attended a hypnobirthing class and was determined to do it naturally. I listened to the self hypnosis tapes and practiced the breathing and imagery….oh ya I was ready! Then the pain came………..oh boy :) But the nurse was an angel, my midwife was an angel, the whirlpool bath was heaven and I got through it! Yay for me :) One of the best experiences of my life. Seriously I would never have it another way again. I'm so glad I did it. Next time though I wanna try it without the screaming. :) But bottom line….no matter what you choose the most important thing by far is having that little angel in your arms.
I think another biggie for to-be-moms is the question of nursing or bottle? For me personally it wasn't even a thought. I was a boob mom. There is something very special with having that closeness with your baby. And even though at times (like in the middle of the night) you wish so much to be back in that bed and you didn't have to do this two or three times a night,or during the day you could go out more and not have to worry about a baby hanging off your boob; you will so miss it when it's over. Now I understand it is not that easy for many moms and that's fine. There's still a special closeness you can have with your baby feeding them. And then sometimes breastfeeding is just not enough for the baby and they need more. I don't see anything wrong with supplementing a bottle. I did with my first two. Some women just don't produce enough milk. A friend of mine was an absolute "by the book" mom at first. Breastfeeding only cause that's the best is what the books say so I will absolutely not stray from the written word. Well the poor little guy looked like a pencil. She would nurse him for hours (can we say ouch!) only he just picked. Finally she gave in to others advice and gave him a bottle. He wolfed it down. And right after that he started looking healthier and chunkier (the only time in your life you wanna be called chunky) Poor little guy was starving. So please don't go by books, go by instinct. Babies aren't carbon copies of one another, either are boobies, each is individual and what works for one is not gonna work for another. :)
Finally I will give one piece of advice. Love, Love, Love and more Love. Love that baby with everything in you. Love every moment. Even the midnight feedings, the poop explosions, the pacing the living room with a screaming baby, the spitting up all over your new blouse at church; enjoy it to the fullest for it goes so fast and you will miss those precious moments (even if they are humiliating).