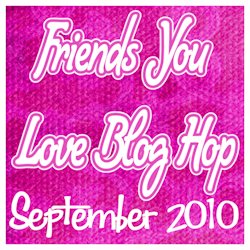 This month is about building friendships and making our existing friendships stronger...
We challenge you to dig into your "followers" list and find a follower you don't know well (someone who doesn't comment regularly) and reach out to them and ask them to do a guest post on YOUR blog. Link up with your guest post and have your new friend (guest poster) link up as well!
First off - I guest posted for Adrienne at Stories from the Shoebox - Check that out here -
This week I chose Laura from
The Purse Blogger
. I think we stumbled across each others blogs from Shell's Pour Your Heart Out blog hop. When I saw this opportunity come up I just knew I had to have Laura over here for a guest post. She is witty and sincere ! Plus she sells what every girl loves - PURSES! (Hence - The Purse Blogger) Speaking of her awesome products - Laura has been nice enough to team up with me on a diaper bag giveaway as I get my feet wet in the giveaway business.
Head over here
to read the rules and enter. Please make sure to stop by her blog and show her some love too. After all isn't that what this blog hop is all about?
Now I'll let The Purse Blogger do the talking...
I want to thank Di for asking me to guest post for her for the Friends You Love bloghop. I was so flattered she'd even want me to and also a bit nervous because this is my first ever guest post. I have loved getting to know Di and I can't wait until she has her baby. She is a wonderful bloggy friend and I'm so glad she is mine.
While telling a friend of mine I was asked to write a guest post and was trying to decide what to write, this friend suggested I should share a recipe. At first I thought, "Yeah right" but the more I thought about it, the more I liked the idea. So, to give a little history behind this recipe, I wrote the following:
I married into a family that knows how to cook. The meals and treats I've had are to die for. My husband also loves to cook and I couldn't be happier about that. He would make dinner every night if he could. He is a gourmet cook. He doesn't like to make things half way, he wants to make his dishes in what I call the hard way. :) I appreciate that about him but I don't have the patience to stand in the kitchen for hours. Even though I consider myself a pretty good cook, he goes above and beyond.
He learned this from his mom and his dad. They are both great cooks. His mom has made some of the most delicious Thanksgiving dinners I've ever had. Her homemade rolls make my mouth water just thinking about them. Her homemade pumpkin pie, delicious! I've gotten some really good recipes from her over the years. One of my favorites though, has nothing to do with Thanksgiving dinner. It's a basic but yummy recipe that I never tire of. My whole family loves it and I love that it's homemade. She is famous in the family for this recipe and I'm sharing it here today. I hope you all enjoy it as much as we do.
Granola
2-4 c. rolled oats
1 c. chopped nuts
½ c. coconut
½ c. brown sugar
¼ c. melted butter
Mix together and spread on a cookie sheet. Bake at 350 for 15 min., stirring once mid-baking. Pour back into a mixing bowl while it is still hot and add:
½ c. wheat germ
½ c. honey (more or less to taste)
Spread back on cookie sheet and bake for 3-4 min. Let cool completely on cookie sheet. Once it is cool add additional toppings (raisins, cranberries, chocolate chips, etc.)
As a matter of fact, I think I better go make some of this now. I love that it is super easy to make and it is not time consuming. It also makes enough to last for a while and it stays fresh. You can have it for your morning cereal or for a yummy snack. Go ahead and try it. Let me know how you like it. :)