This post is linked up with Shell as part of Pour Your Heart Out Wednesdays.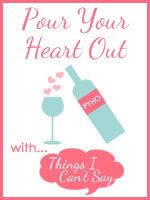 Remember that everyone linking is pouring their hearts out and we should all be respectful in our comments.
For the past year or so I have been complacent. I embraced the status quo because I was too tired to do otherwise. Being pregnant and/or having a newborn will do that to you. So I just went along for the ride and didn't stir the sea at all.
But I have been unfulfilled because of it. And quite frankly – unhappy.
So in the past few weeks, I started speaking up. Causing some waves.
And it has taken people by surprise.
I realized that I didn't like the way I was being treated or talked to by certain people. It was disrespectful and rude. I had put up with it for long enough and I was putting my foot down. There is no way I am going to let my son grow up thinking that people should be treated that way. I want him to be a gentleman and respect everyone around him. There was no way that was going to happen if I let myself be a door mat. So – I stood up for myself. And I keep doing it every time someone gets out of line with me. It's not like I'm putting my dukes up and causing a ruckus when it happens though. I can usually calmly say "I don't like the way you're talking to me and I won't be treated that way."
And I shouldn't be okay with it. I deserve better than that.
Am I happy or fulfilled yet? Well, no – these things take time. I do however have a feeling of peace now. I know that I am finally thinking of myself. That I am not just letting things go because it easier that way. I am important and I deserve to make it known. I am not going to sacrifice myself because it makes someone else feel good. So while it may be "No More Mister Nice Guy" for awhile, in the end it will make for a much happier and nicer me.
I can live with that.