Its a two for one today - I'm doing both Five Question and Follow Friday so hello to everyone from both. Glad to see you, hope you stay awhile and leave me a comment or two. Who knows maybe we'll become Bff's and share iced coffees while we complain about our hubbies. No? Okay well then enjoy reading!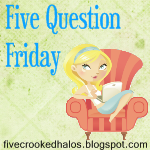 Five Question Friday is just a fun way to get to know other bloggers. Click above to find out more and join in on the fun!
1. How much time do you spend on the computer a day?

Way too much. I believe my job description actually reads - stare at computer screen for 8.5 hours of day or until head starts spinning and eyeballs pop out of head. Then stare some more. I've gotten better though. Once I get home I refuse to get on the computer. I try to write my blogs over the weekend and just post them during the week to cut down on computer time too.

2. Will you pay for your children's college or raise them to pay for their own way?

I don't have children yet but I think it will be a combination of the two. I plan on saving what we can but also having them know that we expect them too work hard and do well so that they are able to qualify for scholarships and grants.

3. Have you ever been in a car accident?

Yes - a few. The most recent was February of last year when we got rearended by a drunk driver. Not a good experience at all.

4. What is your favorite book?

The Shop on Blossom Street by Debbie Macomber - which led to loving the entire Blossom Street series. Especially Twenty Wishes.

5. Do you make your bed everyday?

For the most part -yes. I have lazy morning where I don't but almost every day I do. My absolute favorite feeling in the world though is fresh sheets. I have always said if I win the lottery I will buy a plethora of sheet sets so I can have fresh sheets on my bed every night. I literally get in bed when the sheets are fresh and whip out the snow angels to soak up that feeling!